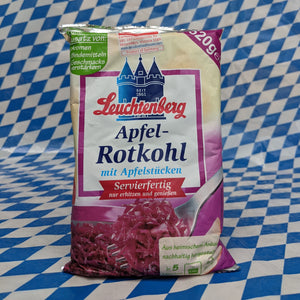 Description: 
Pickled red cabbage of the finest quality all the way from Germany. The price above is per 520g bag. Vegan.
Ingredients: Red Cabbage, Sugar, Vinegar (Brandy Vinegar, Red Wine Vinegar), Apple Pieces 6%, Apple Juice, Spices, Salt.
Nutritional Info Per 100g:
Energy 289kj
Protein 1.4g
Fat: total - <0.1g, saturated <0.1g
Carbohydrates: total - 15.0g, sugars 15.0g
Sodium 0.60g

All natural, vegan, lactose-free and gluten-free
For all orders over $85, we can deliver within 20km of our Gabba warehaus, Thursdays (Bris north) between 11 and 4 or Fridays (Bris south) between 11am and 3pm.
If you have to head out or leave during the day, if you could please leave out an esky or cool bag for us to deposit your order into (we can provide the ice) that would be appreciated.
Otherwise you may pick up either Tuesday, Thursday or Friday between 10 and 2, from our Gabba warehaus.
If neither of these options suit you, we will do our best to arrange something suitable.
table.