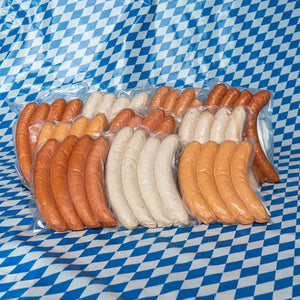 Want an easy meal any night of the week? Here's the ticket!
(40 sausages in total).
2 Pack Plain Knackwurst
2 Packs Spicy Cheese Kranski
4 Packs Cheese Kranski
2 Packs Smoked Bratwurst (Bockwurst)
(sausages come cryovac packed )
* The product image is a mixture of all sausage flavours and does not represent the specific above stated sausage selection *
**This is an online special only
All meat items are GLUTEN FREE and fresh, so you can freeze at will.


For all orders over $85, we can deliver within 20km of our Gabba warehaus, Thursdays (Bris north) between 11 and 4 or Fridays (Bris south) between 11am and 3pm.
If you have to head out or leave during the day, if you could please leave out an esky or cool bag for us to deposit your order into (we can provide the ice) that would be appreciated.
Otherwise you may pick up either Tuesday, Thursday or Friday between 10 and 2, from our Gabba warehaus.
If neither of these options suit you, we will do our best to arrange something suitable.