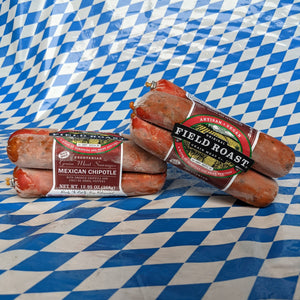 *These are sold frozen.
Description:  4 sausages, 368 grams per pack -  These are a delicious sausage for any time of the day. A slightly feisty Mexican array of flavours, good for the belly and soul.

Ingredients: Vital Wheat Gluten, Filtered Water, Expeller Pressed Safflower Oil, Onions, Garlic, Apple Cider Vinegar, Yeast Extract (Yeast, Salt, Cane Sugar), Chipotle Peppers, Onion Powder, Granulated Garlic, Brown Sugar, Sea Salt, Barley Malt Extract, Spices, Black Pepper, Paprika Oleoresin Colour, Chili De Arbol Peppers, Cumin, Oregano.
Manufactured In a Facility That Processed Tree Nuts
Nutritional Info Per Serving (Serving size: 1 sausages [92g])
Energy 962kJ (Calories 230)
Protein 28g
Fat: total - 8g, saturated 0.5g
Carbohydrates: total - 11g, sugars 2g
Fibre 0g
Sodium 580mg
For all orders over $85, we can deliver within 20km of our Gabba warehaus, Thursdays (Bris north) between 11 and 4 or Fridays (Bris south) between 11am and 3pm.
If you have to head out or leave during the day, if you could please leave out an esky or cool bag for us to deposit your order into (we can provide the ice) that would be appreciated.
Otherwise you may pick up either Tuesday, Thursday or Friday between 10 and 2, from our Gabba warehaus.
If neither of these options suit you, we will do our best to arrange something suitable.